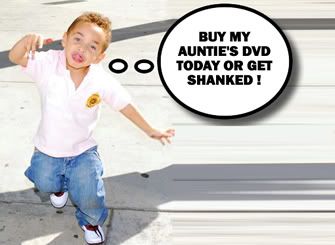 If you value any part of your life you would do what Baby D. says. This is not somebody you want riding by your house at 1AM in the morning. As T.I. once said: He can get your blocked knocked off! I'm not saying he does the block-knocking, I am saying is that he can arrange to have your block knocked off.
If you are a stan like me, then you know that
The Beyonce Experience Live from Los Angeles
is in stores today. The DVD features special appearances by Jay-Z, Michelle, and Kelly.
This year has been a very expensive year to be Beyonchichi fan. You probably spent at least $200 on tickets, then Armani Diamonds, then the B'Phone, I'm sure you switched to DirecTV, and you probably tried to apply for an American Express card in your 6-month old nephew's name. So $9.99 for a DVD may be a little too much right now. If that's the case then BET will be airing the concert on Thanksgiving at 8PM. If you miss it then, they will show portions of the concert throughout the Cowboys and Jets game on CBS. If that's not enough, portions of the concert will also be re-aired on BET, during Bobby Jones Gospel Hour, and re-runs of Girlfriends.