It's been about 3 months since our last update, I have mixed feelings about this whole Beyonceitis thing now, but it doesn't change the fact that Beyonce shits on everybody at everything as is better than you at everything, including but not limited to singing, dancing, and martial arts.
So last night Beyonce won the International Artist Award: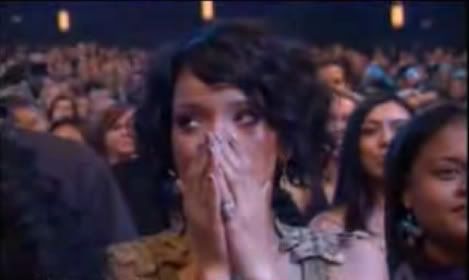 If you want to bitch about it being a made up award (which it isnt), blah, blah, please go to Beyonceworld with that shit. Yes she's only had 2 solo albums, but this chick is performing in STADIUMS all over the world. She has 5 commericials out right now. She's not just a singer anymore. She's a pop culture icon. Swish that around your mouth for minute.
Anyway after the American Music Awards Beyonce ran back into the studio to begin work on her new album. This album will not be rushed. Beyonce believes that true art and creativity cannot be put on a clock. She wants to take her time and find the a sound that is classic and timeless not rushed.
The album should be out this week in time for Black Friday.
While I am leaking all over myself waiting for Beyonce's next album, I am MOST excited about Baby Daniel's debut.
So I went to the studio to get an exclusive listen of Baby Daniel's new album "The Creole Pimp Chroincles" and I learned that Matthew Knowles is planning to send Beyonce to rehab! To get more on the subject we tracked down Mr. Knowles who was in the studio with his grandson Baby Daniel, overseeing the recording of Daniel's new album due out early 2008. The album will feature Baby D. rapping and singing. When I came in Daniel was in the booth singing a track. I don't know the title but the lyrics went like this:
"I be pimpin'
Creole pimpin'
All the time
All the time
My pimpin' hand be strong
That's why I'm singing this song
I be pimpin'
Creole pimpin'
The tracks were hot, but I was there for business so I sat down with Matthew to get all the info.
Here is our interview:
Beyonceitis: Matthew I heard you were sending Beyonce to rehab? What in Dereon hell is going on?

Matthew: One thing I've learned being in the music industry and breathing down Beyonce's back for the past 10 years is that people don't appreciate talent for talent's sake. If you are just talented then you are attacked. You're overrated. You're overexposed. You're a sellout. However you go through some kind of personal crisis, more people gravitate towards you and embrace you. Example. Whitney Houston gets booed at the Soul Train Awards. They called her a sellout and an oreo. 10 years later, she does the crackhead shuffle at the BET Awards and gets a standing ovation and lifetime acheivement award. R. Kelly pisses on minors, he's the King of R&B. Tina Turner, well, she didn't really piss on anybody but we like her more now that we know that Ike went upside her head with that snakeskin boot. I realized that Beyonce just being talented was not enough. People view her as this perfect goody two-shoes. There's no story. No struggle. These days people just won't let you be talented and healthy and happy. So I am sending her to rehab.

Beyonceitis: But Beyonce doesn't do drugs.

Matthew: I know, but she's going to rehab anyway, it will be a good addition to her E! True Hollywood Story, plus she needs the vacation.

Beyonceitis: What will her fans do while she's gone? Do you know there are about 167 idiotic stans at Beyonceworld who will kill themselves if she's gone for more than a week?

Matthew: For $8000 a pop, Fans will be able to buy meet and greet passes, to visit Beyonce in rehab. You will get a picture with Beyonce plus a t-shirt that says "Beyonce Smokes Crack Rock"

Beyonceitis: But, Beyonce doesn't smoke crack rock.

Matthew: I know, but we've found her stans would buy a piece of turd in a ziploc bag as long as you put Beyonce's name on it.

Beyonceitis: So while Beyonce's in rehab, who will be the hottest chick in the game?

Matthew: I'm glad you asked me that. Tina and Solange are teaming up with VH1 to launch a reality show called "Diva School: Flavor of Beyonce" where other female singers will compete for the chance to be named "hottest chick in the game" for a month. The grand prize winner will actually have their albums released on time!
At this point Matthew shows me a scene from Tina's new Reality Show "Flavor of Beyonce" (I always imagined Beyonce tasted like Skittles and neckbones)
Ashanti, Cassie, Christina Milian, Amerie, KeKe Wyatt, are all standing at the top of a staircase.
Tina: Ladies, today your first challenge will test how well you recover. How well you can think on your feet.
(all of sudden, Baby Daniel comes and pushes all the ladies down the stairs. Ashanti falls flat on her face, KeKe falls, and out of anger takes a swing at Baby Daniel with her razor.)
The second challenge will test your cleaning skills.
Let's say you're on the red carpet in your fabulous Dereon leopoard-print cocktail dress with ruffles and glued-on rhinestones, and of course a brand new fur. All of a sudden, PETA comes and throws pigs' blood on you. Now your wig is ruined. Ladies you have 20 minutes to get the blood out of the wig. Good luck.
20 Minutes Later.
(Amerie presents her wig)
Tina: Very good Amerie, how did you clean this?
Amerie: Warm water, and shampoo, and I let it air dry.
Tina: Very good. KeKe where's your wig?
(KeKe shows Tina the wig)
Tina: KeKe why is your wig so short?
KeKe: I didn't feel like cleaning it so I just cut the blood stains out.
Tina: KeKe sit your violent ass down. Cassie where is your wig?
(Cassie hands Tina a piece of paper)
Tina: What is this?
Cassie: I don't really know how to clean wigs so I just asked Diddy and Ryan Leslie to come up with an excuse for me.
Tina: Cassie sit your tonedeaf ass down. Ashanti where is your wig?
Ashanti: Umm..I don't know.
Tina: We gave you the wig 20 minutes ago, I know you didn't lose the wig in 20 minutes. Where is the wig?
Ashanti: I don't know.
Tina: Ashanti, I'm going to ask you again where is the wig?
Ashanti : I don't know.
Tina: Ashanti, did you put your wig in the washing machine?
Ashanti: Yes...
Tina: Go get my wig out of that washing machine before I whoop your ass!