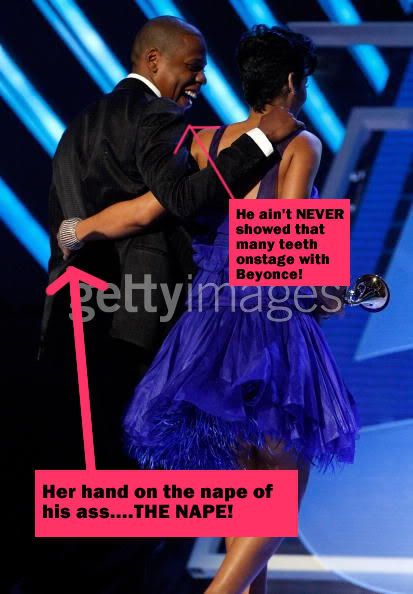 As nearly 20,000 people poured out of the Staples Center following the Grammys, singer Rihanna refused to leave her seat as hundreds of Beyonce's relatives formed a circle around the Staples Center waiting for her to come out so that they could jump her.
The incident began earlier in the evening when Rhianna won Best Rap/Sung Collaboration with Jay-Z. Rihanna walked up to Beyonce and didn't say hey, hi, cat, dog, or nothing then grabbed Jay-Z's hand and led him up to the stage. At that point Beyonce's sister Solange dialed the number 7 on her cell phone and within minutes over 300 Knowles/Dereon relatives flew from Texas to California on the Creole-copter. The Dereon clan came armed with bricks, baseball bats, box cutters, lead pipes, and, ironically, umbrellas, and formed a circle around the Staples Center, waiting for Rihanna to leave the building.
Beyonce's family was outraged at Rihanna's behavior.
"What she did tonight was very disrespectful." said Beyonce's great-aunt, Cookie Dereon. "Also if you see that big-lipped bastard Jay tell him I got words for him too. "Crazy In Love" won about fiftyleven awards, and his monkey-ass ain't NEVER got onstage with Beyonce to accept an award. Then he had the nerve to get up there and laugh and grin with that tramp Rihanna onstage last night? If I wasn't a saved Christian woman I would curse his motherfuckin' ass out.
As of this morning, Rihanna is still stuck inside the Staples Center, and has reportedly asked her home country of Barbados to send airplanes or an army to help her get out of the Staples Center without having a confrontation with the Knowles/Dereon family. But Beyonce's uncle, Roscoe Dereon said: "She doesn't need any backup. If she's bold enough to be disrespectful she should be bold enough to
take an ass-whooping.
Here is a timeline of the events as they unfolded:
10:15PM - Rihanna wins a Grammy then she basically strips naked and dry-fucks Jay-Z in front of God, T-Pain and everybody. She doesn't even acknowledge Beyonce. It takes Jesus, Joseph, Mary J. Blige, and Fantasia to hold Beyonce back from tackling Rihanna like she's at the Super Bowl.
10:17PM - Solange calls members of the Knowles/Dereon family for assistance.
10:32PM - Over 300 members of the Knowles/Dereon family fly in from Texas and Louisiana to "beat the brakes" off Rihanna.
11:35PM - Thousands of Grammy Awards attendees pour out of the Staples Center. Rihanna does NOT move.
12:00AM - Rihanna remains inside the Staples Center. She forgot that if you're going to show your ass you need at least two homegirls with you in case shit jumps off.
2:37AM - Rihanna sends an S.O.S call to Barbados asking for them to come airlift her out of the Staples Center or at least send fried chicken or tacky fabrics to distract the Dereon family so that she can make her escape.
2:50AM Solange gets the keys to Beyonce's brand new 2008 Maybach and circles Rihanna's hotel in case she decides to sneak out.
2:55AM - Michelle gets the keys to Solange's 1988 Toyota Camry and circles Rihanna's hotel in case she decides to sneak out.
3:05AM - Beyonce's relatives set up camp waiting to jump on Rihanna's ass. Beyonce's uncles starting barbequing in the parking lot, Beyonce's aunts started selling fried fish plates, pickles, and can sodas, and each come with a free copy of Miss Kelly.
4:12AM - Beyonce's relatives begin discussing how hard they are going to slap Rihanna. Beyonce's Aunt Pootsie Dereon says she's going to slap Rihanna into 2012. Beyonce's Aunt Pam Dereon said she's going to slap Rihanna into a movie, (she says Rihanna will be quoting Color Purple lines for a month.) Beyonce's twin cousins Dasani and Aquafina Dereon said they will slap Rihanna's hairline to where it's supposed to be.
4:20AM - Tina Knowles and Tina Turner begin playing Aretha Franklin and Whitney Houston in a game of spades. At around 4:30AM the four send Baby Daniel to the store for Newports, pork rinds, and denture adhesive. Rihanna remains inside.
Please check this site throughout the day as this story develops.
This is not the first time Rihanna has disrespected Beyonce.