Ok. Day 3 of our week long
Pastor Anniversary
1-year celebration, and this shit is stressing me out. This whole "posting everyday" thing is just unnatural, but I'm going to stick to my word, and I will get through this week by the grace of God and Starbucks.
A lot of people devote a lot of time into finding fault in Beyonce. But there are things that other stars have gotten away with that Beyonce could NEVER get away with. If you look at Beyonce in comparison to most other celebrities she's a pretty good role model. Let's look at the evidence:
- No leaked sex tapes.
- She's never hit anybody with her car.
- She's never shaved her head (not that there's anything wrong with that but Tina would elbow her in the mouth if she even thought of doing that)
- No trips to rehab
- No embarrassing reality shows
- She has never pissed on underaged kids
- She doesn't fuck for tracks (I know what you're thinking and for your information she didn't let Jay dick her up until AFTER they were in a committed relationship, and AFTER he was tested for STDs and worms. Her mama taught her better than that.)
The most scandalous thing she has ever done was "Crank That Michelle Williams" down a flight of stairs on stage in concert. And even that wasn't a big deal as I thought it would be because in the end it just showed what a great performer she was since she got up and started rotating that lacefront like nothing happened.
Most of the things she's criticized for are things that other artists do or things that we can't prove. The blond hair light skinned thing is played out cause she ain't the only female artist with blond hair, and she has no control over how light or how dark she is. We can't prove that it's her fault that LaTavia, LeToya, and LaFarrah work the food court at Galleria mall in Houston. We don't know what REALLY went down with Destiny's Child since there are at least 2 sides to every story but we are inclined to believe the version the makes Beyonce look like a stuck up bitch.
I feel like because Beyonce is at the top of her game we hold her to a standard that NO ONE can live up to, and she can't get away with anything.
I realized this about 2 years ago, while Jay was on tour in Australia.
Beyonce thought it would be funny to dress like a gangsta cause y'all know she's so hood and stuff...
It seemed harmless and all in good fun...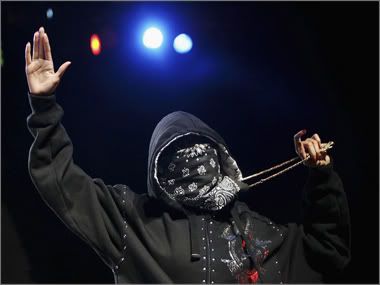 Then all types of Creole hell broke loose.
"What the hell is she doing?"
"She's lost her mind!"
"Jay-Z has turned her out!"
"She's glorifying gangsters!
To me it was a girl having fun with her boyfriend onstage, but to Beyonce critics it was just another chance for them to bitch about Beyonce. If any other female artist had done this with their boyfriends on stage I don't think it would have been a big deal. If Ashanti jumped onstage dressed as Nelly it probably wouldn't have been big deal. If Omarion jumped on stage dressed as Bow Wow you wouldn't care. But because it's Beyonce stepping outside of what you expect from her... she's crazy. You complain that she has no personality, but when she does something which shows that she might have a sense of humor then she's lost her mind.
In the spirit of that today we're going to play a game called "THINGS BEYONCE COULD NEVER GET AWAY WITH". I'll name things that other superstars have done that you would never, ever, ever, ever let Beyonce get away with.
Let's begin:
WHO AM I?
I am a MASSIVELY TALENTED multi-platinum superstar. I am undeniably talented but at times I am pitchy and down right off-key during live performances but you let me get away with it because I play the piano. It was RUMORED that I broke up a marriage between a producer and his wife but that rumor didn't get very far because I'm not Beyonce, but had it been Beyonce it would have been headline news on CNN and y'all would have hanged me live on 106 and Park. Who Am I?
WHO AM I?
I don't allow ANYONE to use my photos, videos, songs, or image in any way.
I have sued and shut down my own fan message boards to stop them from posting videos, songs, or photos of mine without permission.
If I was Beyonce and I did this y'all would torch the wig crypt to the ground but I can get away with this because I'm not Beyonce (although we do wear the same size high heels). Who Am I?
WHO AM I?
I have 5 kids with 3 different fathers. Despite the fact that I wasn't the best singer and arguably not even the best looking member of my singing group I became the lead singer, (maybe because I slept with the head of my record label). Years later, while on stage with my group mates
I pushed one of them to the back of the stage because I wanted to be the one in the front.
If Beyonce had done this to Kelly you would beat her with a House of Dereon lizard skin belt with rhinestones but I can get away with this because I'm not Beyonce. Who Am I?
WHO AM I?
I have feuded with Natalie Cole, Gladys Knight, Luther Vandross, my own sister, and even Beyonce.
I wrote a book about those feuds years ago
. I didn't go into detail about what started these feuds but I did write in great detail about who makes the best hot dogs and catfish sandwiches in Harlem. If Beyonce were this mean to her peers she would never work in the industry but I can get away with this because I am the Queen. Who Am I?
WHO AM I?
My album didn't debut at #1 but that's ok because I'm not Beyonce. Beyonce's album has to debut at #1 with at least 900,000 sold or she's a flop. I released 3 singles none of which were big hits, but that's ok because I'm not Beyonce. All of Beyonce's singles have to go to #1 for 10 weeks otherwise she's a flop. I'm not quite big enough to headline my own tours, but that's ok because I'm not Beyonce. All of Beyonce's shows have to completely sell out. If there are 10,000 tickets on sale and she sells 9,998 she's a flop because it's not completely sold out. My career is kinda mediocre right now but it's ok because I'm not Beyonce and you would NEVER let her get away with this. Who Am I?
(NOTE: WE WILL ACCEPT MULTIPLE ANSWERS FOR THIS ONE)