Do you have an aunt or an older cousin who used to be the shit back in the day. Her milkshake used to bring all the boys to the yard. She was your favorite auntie/cousin. She got you your first sip of GOOD liquor (not the cheap stuff your mama buys). She taught you how to dress. She taught you all about boys. Taught you what to say to the boys you didn't want and how to get the one you really wanted. But years have passed. The milkshake has gotten a little chunky... and spoiled. The boys don't come to the yard as much. But she still thinks it's "back in the day". She still wants to hang out at the club with you and your friends. She still wants to borrow your clothes and compete with the young girls. When "Get Me Bodied" comes on she gets TOO excited when it's time to do the old school dance because it's the only dance she knows. Hypothetically, she could "drop down low and sweep the flo with it" but you might have to help her get back up. It's not that you don't enjoy clubbing with her... every now and again... but at a certain age you shouldn't be at Freakum Friday or A Milli Monday or whatever event is going on at the local Negro dancery. Sometimes it's ok just to sit at home, count your money and watch the Lifetime Movie channel. But she's family and she taught you everything you know, and you love her.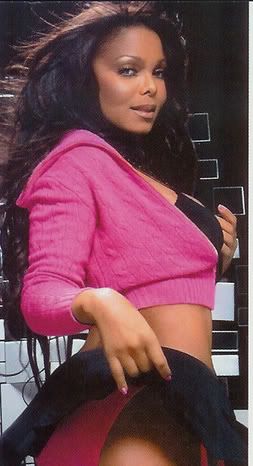 Today, Wig Crypt (in association with KY Warming Mist) presents to you:
5 Reasons Why You Should Buy Tickets to Janet Jackson's Tour:
1. You used to want to be her. You dressed like her. You hurt yourself and damn near busted your little brother in the mouth trying to do one of her dance routines.
2. History has shown that she puts on a
good show
and you'll get your
money's worth
.
3. There aren't but a handful of Black females who can fill arenas (without co-headliners) and put on a good show. Beyonce isn't touring this year and I'm still undecided about whether I want to spend $200 to see Tina Turner "Crank That Golden Girls" on stage. Janet is our best bet for this year.
4. OPTION A: You can buy tickets to her concert when she comes to your local arena. OPTION B: Don't buy a ticket, the tour flops, and can buy tickets when she comes to your local high school auditorium starring in one of the urban/gospel/Negro plays: Why Did I Get Married to the Mad Black Woman at the Family Reunion while On My Way To Jail...on the Down Low.
5. Buying a ticket helps feed a
starving, sickly-looking child
.
OK.
Here's the
Ticketmaster Link to her tour dates and to buy tickets.
If Janet doesn't sell at least 1,000 more tickets in each city she's performing by the end of this week I'm starting a rumor about Beyonce. I won't get specific but I'll give you a hint:
Beyonce+ barbeque sauce+Kelly Rowland+Ranch dressing+Rick Ross = Sex tape.
Don't make me do it... you know I will...
I've done my part.
It's your decision.
But don't say I didn't try.