It was announced today that YouTube set a new record when they had over
100 million viewers
in the month of January in the United States.
97 million of those viewers were Beyonce haters.
Because I am a rising entre-po-niggra I am always trying to find ways to expand my biznass and get more people to my blog. I guess I could go to BeyonceWorld and advertise there, but if you recall
I AM STILL BANNED!
. So I decided to interview YouTube's Marketing Research Director Heywood Jablomi to see how YouTube has become so successful. Here are excerpts from our interview:
Me: So how have Beyonce haters generated so many YouTube hits?
Heywood Jablomi: Our market research shows that Beyonce haters operate under the assumption that EVERYBODY wants to hear about their hate of Beyonce. Instead of trying promote music they they do like, they feel the need to bring Beyonce's name up in real-life situations that have absolutely nothing to do with her.
They bring her up in videos that are NOT related to her: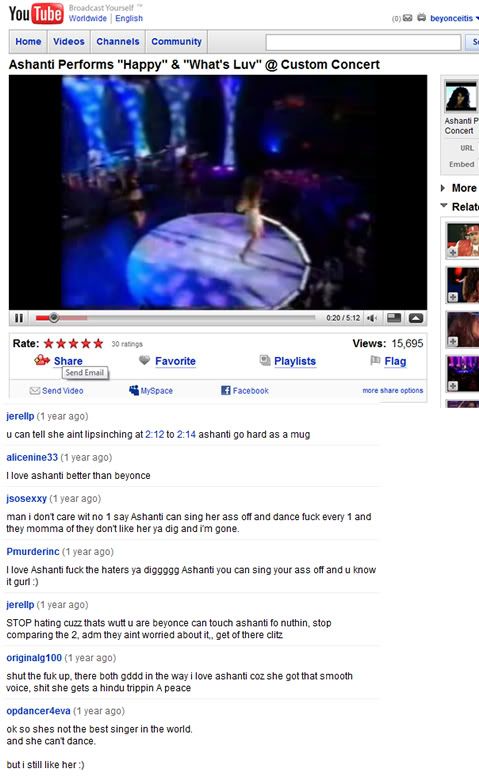 They bring her name up when they pay rent: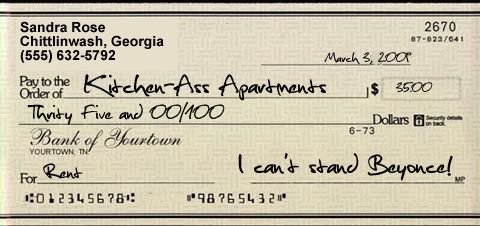 They even bring her name up when they give tithes and offerings to the Lord: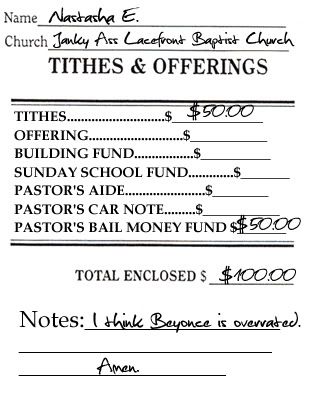 Some of them are even so sad and pitiful that they register on Beyonce-related message boards, with hardcore Beyonce stans and hate on her.
Me: But that doesn't make any sense. If you don't like Beyonce why would you spend time at a place filled with her pictures, her music, and people who love her more than life. That's like if I hated Pizza Hut pizza but I liked Papa John's pizza. Why would I go to Pizza Hut and tell people not to eat there. I mean, the people wouldn't already be there if they didn't like Pizza Hut, and I have just wasted my time and made myself look very stupid instead of just eating at Papa John's and going on about my business.I don't think Beyonce haters aren't that transparent.
Heywood Jablomi: Yes they are. CNN.com posted a story about a possible cure to HIV. Then they posted a story which gave out an address to where people could get unlimited $100 dollar bills (no strings attached). Then they posted a story about Beyonce eating chicken nuggets. The HIV story got 3 comments. The story on how to get free $100 bills got 2 comments. The Beyonce story got 5,429,387 comments, most of which were negative. We're not sure how a person can find something negative about a person eating chicken nuggets, but I'll be damned if they didn't find a way. Haters complain about her being overexposed yet they can't keep her name out of their mouth, and will not miss an opportunity to click on a link with the word "Beyonce" in it. We at YouTube used this to our advantage.
Me: How?
Heywood Jablomi: We create fake Beyonce hater accounts. We have dozens of fake accounts with names like: "Beyonceisfake" "Beyonceisabitch" "IHateBeyonce" "BeyonceSucks".
Me: What's the point of doing that?
Heywood Jablomi: We have found that creating fake hater accounts attract real haters and real stans. Some stans spend more time looking for haters than they do looking for actual Beyonce videos. And when they find them, the stans take the links back to message boards, and they bring back about 1000 people to YouTube. And those 1000 people (most of whom are undercover stans of other artists) take those links to other artists message boards, and they take them put it on Facebook, Twitter, MySpace, YourSpace, YoMamaSpace, GaySpace, and anybody who will listen to them. Then they bring 1000 people, and those 1000 people bring 1000 people, and so on, and so on...
Me: Wait a minute. Why would a Beyonce stan take a Beyonce hater link to a Beyonce message board. Why would they promote hate of Beyonce?
Heywood Jablomi: I don't know. Common sense goes out of the window when dealing with Beyonce. I guess they think that they can convert the hater into a stan. But as Kanye West so eloquently stated "Hater niggas marry hater bitches and have hater kids." Hate starts in the womb. Hate is embedded in our DNA, it's genetic. People are born that way. You can help it and you can't change it. Embrace it. We at YouTube have just found a way to make money from it. We have made billions and billions of dollars of Beyonce haters and stans.
Me: I see... Well... Can I hold something?
Heywood Jablomi: Umm. no.
Me: Oh. Well, what do you think would happen if Beyonce stans minded their business and stayed at BeyonceLand, and Beyonce haters took their hateful energy for Beyonce and transformed into love for somebody else. The energy they use to hate, what if they used it to promote other artists, buy their albums, request their songs at the radio. It takes all of about 30 seconds to buy a song on iTunes, but a "Beyonce Had Plastic Surgery" video takes at least an hour. What if everybody just minded their business and worried only about the things they liked, instead hating on the things they didn't like?
Heywood Jablomi: The whole damn internet would shut down...