This week I'm "celebrating" the 2 year anniversary of
Beyonceitis
. A lot has happened since then, but a lot has remained the same. I wish I could say that it is easier being a female artist in 2009 than it was in 2007. I wish I could tell you that Beyonceitis victims fought the good fight, and Beyonce let them be. I wish I could tell you that - but the music industry is no fairy-tale world.
I look at stanning for celebrities a lot like betting on horses at the racetrack, you pick a horse, you bet money on them, and if you win there's a pay off.
Our "pay-off" is the satisfaction of being proven right. Being able to be annoyingly obnoxious and throw it in your face that our horse is the #1 diva in the game while your horse is about to get dropped from her label. Our horse has 10 Grammys and a career that seems to get bigger everyday. Your horse is flopping and is about to be taken out back and shot between the eyes. Stanning for celebrities is just like betting on racehorses and I'll be damned if we didn't pick a winner.
I guess I should tell you how Beyonceitis came about. It was during the Dreamgirls/B-Day and there was strong effort on Beyonce's part to become a worldwide entertainment icon. There was even a stronger effort on the part of haters to make her go away. I noticed that Beyonce had put a lot of pop and R&B chicks out of work, she had slaughtered the game in a way that I never seen before. Just the mention of her name would spark 40 page arguments. I felt that this had to be documented. So I wrote and wrote until it started making sense.
So I put a link
here
.
And somebody took it
here
.
And of course since everybody and their gay uncle is on BeyonceWorld, things just went crazy from there.
After it was posted on BeyonceWorld it somehow appeared on this
sea donkey's
blog, and then she realized that it WASN'T a hater site and took it down, because Lord knows we can't say anything nice about Black people.
From there it ended up
here
, and
here
, and a bunch of other places. And the rest as they say, is history.
Today we're going to revisit Beyonceitis victims from 2007 and see if they were able to improve any over the last 2 years.
Brandy
Brandy was finally able to put her legal troubles behind her, and get back into the studio to work on new music. I recall her stans storming BeyonceWorld saying that she was about to come back and reclaim her crown and put Beyonce in her place.
However, when the first week numbers were in Human debuted on the charts somewhere between Kevin Federline's album and the Best of
Mokenstef
. And the Brandy stans went away.
How She Can Beat the Sasha Flu:
She signed to Jay-Z's Roc Nation (Bitch better have Sasha Fierce's money), whether or not that's a good or bad thing remains to be seen. The game has changed significantly since she was up on UPN every week doing her thing. I'm not exactly how, or if she can fit in. And although her recent albums may not have been commericially succesful, her time away from the spotlight has allowed people to revisit some of her previous work and gain a new appreciation for her talent, and it's nice to go to YouTube and Myspace to see so many new and up-and-coming artists cite Brandy as a musical and vocal influence.
Ashanti
You hoes are just jealous because Ashanti writes her own music, and is a classically dancer,and her 1st album had the highest first week sales of any debut female artist in history and she was the first artist since the Beatles to occupy the top 2 spots on the Hot 100. Blah, blah, blah bark, bark, bark. Although "The Way That I Love You" peaked at #2 on the R&B charts, and Ashanti promoted the album with the obligatory TV appearances "The Declaration" debuted at #878. "Good, Good" was supposed to boost the album but it stalled at radio because for some reason people will support a song about licking Lil' Wayne's penis, yet nobody wanted to hear a song about the goodness of Ashanti's snatch. Putting the shitty icing on yet another shitty cake, Ashanti was dropped from Murder Inc., which would be a bad thing if it wasn't Murder Inc.
How She Can Beat the Sasha Flu:
Although "The Declaration" went triple "Miss Kelly", Ashanti continued to keep herself busy touring, promoting, and performing at Six Flags, bingo casinos, and White Castle parking lots across the country. Plus, she has been preparing for a run as Dorothy in a production of "The Wiz" in New York City.
Janet Jackson
After 4 years of blacklisting, her album "Discipline" did get her back on the radio and on MTV. MTV even had an elaborate promotional campaign behind her album. The album did debut at #1 (the 6th #1 of her career), but about 3 weeks, the album dropped down low and swept the bottom of the charts. Def Jam was unhappy with the musical direction Janet was going in. They wanted her to take a more Anita Baker/Sade route with her sound, and when she told them to kiss her ass they stopped all singles, promotions, and future video releases. In September she finally launched a tour to good reviews in Vancouver, and she planned to take it all over the world, but got no further than New York City. The tour was cancelled due to "scheduling conflicts". 2 weeks later her and her pet chimp were spotted
riding camels in Dubai.
How She Can Beat the Sasha Flu:
Janet is a legend, no doubt, so I can't blame the lack of interest in her tour on ageism or even the shitty ass economy, because Madonna is in her 50's and Tina Turner was entertaining passengers on the Underground Railroad and they both had successful tours in 2008. The gatdamn New Kids on the Block had a more successful tour and they haven't had a hit since "
227
" was on the air. Regardless of the reason it was yet another sad year to be a Damita Jo stan, but I'd still like to think she's just one dance hit away from a respectable comeback.
Kelly Rowland
Oh Kelly...(sigh). I really thought she was going to make it. She had a new confidence and new sound with "Miss Kelly", and what seemed like a certified club banger, but as it turned out not a lot of people wanted to bump like this. The same people complaining about Matthew sabotaging Kelly's career clearly were not outraged enough to actually support Kelly and buy the album. Despite the fact that Beyonce was nice enough to share her BET Awards performance slot with Kelly, "Miss Kelly" debuted at #6 on the charts, and disappeared quickly.
How She Can Beat the Sasha Flu:
She is no longer managed by Matthew, and we shall see whether or not that helps. She hosts a reality show on Bravo. I don't have the strength to go on...
Keri Hilson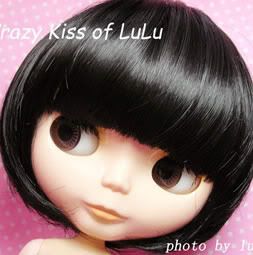 You wack-ass Beyonce stans are just mad because Keri Hilson has REAL talent and can write a song unlike that stealing-ass, fake-ass Beyonce.
Oh word?
I wouldn't brag about being able to write a song if I couldn't write myself a hit big enough to compete with even the flopping chicks in the game. Despite the fact that Keri was presented as a self-contained songwriter and producer on her debut album she got lost in the mix among a bunch of producers and guest stars who are frankly more talented than she is. Polow da Don made her write a A-list check that her D-list ass couldn't cash when he encouraged her to take subliminal shots at unnamed female artists who were more successful than she was. Of course people assumed she was talking about Beyonce because Beyonce is always on somebody's brain. Suffice to say Beyonce stans didn't like this at all. They formed a circle around the Best Buy where Keri works and put a Louisiana Creole voodoo hex on her album sales.
How She Can Beat the Sasha Flu:
Well, she does have a unique style, I call it "discount urban lesbian chic". Like so many Beyonceitis victims before her, her album was well-produced and had big names attached to it, but she has contributed nothing vocally or performance-wise that Rihanna or even Ashanti couldn't do. Her album may not be a blockbuster, but I expect it to be a steady seller and stay on the charts for a while. It will probably go platinum around the time Baby Daniel graduates high school.
Ciara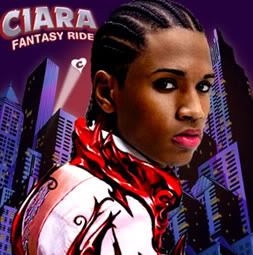 2007 Status: Beyonceitis Survivor
2009: Beyonceitis Victim (Critical)
It's hard to know where to begin with Miss Harris, so I'll start with three words: "Dollar General Desperation". "Dollar General Desperation" is when you are desperate to become bigger than what you are yet you lack the budget, talent, and/or looks to convincingly pull it off. In 2007 Cecil might not have been Sasha Fierce famous, but she had a respectable career. She sold a decent amount of records, radio and MTV liked her, and although she was a mediocre vocalist at best, she had the energy and enthusiasm to become a great live performer. Then one day BET had a list of their Top 25 dancers of all time. Ciara came in at #25. Instead of being grateful for being in the company of dance icons like Alvin Ailey, Janet Jackson, and Michael Jackson, Ciara felt that she should have been higher up on that list despite the fact that she had been in the industry for all of about 2 years. Then she started thinking "Well, if Beyonce is a big star I can be a big star too!" So like the little sister playing in her big sister's clothes and make-up Ciara started playing dress up. The goal was to recreate Ciara as an iconic diva sex symbol. She showed her rectum on the cover of VIBE, MTV did a series of semi-funny video shorts to promote her album, she became BFFs with Kim Kardashian, she signed with Justin Timberlake's management who tried their hardest to create the illusion that she was a worldwide superstar (I still giggle when somebody says "Grammy Award winner Ciara). After heavy promotion including a performance on Saturday Night Live, when the 1st week numbers came in Ciara was #3 behind Chrisette Michelle, and to be honest, I didn't even know Chrisette's album was coming out. I'm all for artistic growth and trying new things, but not everybody was designed to be a "diva". It doesn't make you less than or better than it's just not everybody has the attitude or body frame to pull off certain looks.
How She Can Beat The Sasha Flu:
Don't count Ciara out yet. Chris Brown's last album debuted at #4, but he was still able to have a successful headlining tour, a re-release, 3 million copies sold, and a whole bunch of...um...hits. Ok, that might not be the best example, but now that a couple thousand people finally have her album, Ciara can make more informed decisions about which singles to release, and what fashion choices to make... and for the love of Agnes please get rid of those tobacco field-ass braids.
Christina Aguilera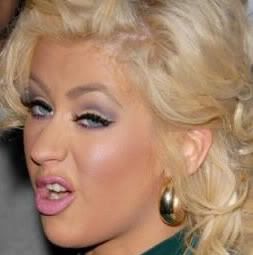 2007 Status: Beyonceitis Victim
2009: Beyonceitis Victim (Serious, but stable)
Christina Aguilera is the voice of YOUR generation. Not mine though.
This is the voice of my generation
. Christina has the talent and she's never been afraid to try new things, but the mainstream attention has been fading. For some reason she has a hard time getting people to give a damn. Britney's vagina got more coverage than her last album.
How She Can Beat The Sasha Flu
: If she can get pass Lady Gaga to even get to Beyonce then I'll post a
YouTube video
of myself dressed as Diana Ross singing "Touch Me In The morning and then just walk the fuck away"
Rihanna
2007 Status:
Beyonceitis Survivor
2009 Status:
Domestic Violence Survivor
Here's a list of things I would rather do than watch Rihanna perform live:
I would rather watch water boil.
I would rather watch a dog eat its own feces.
I would rather read Ashanti's book Foolish/Unfoolish: Reflections on Love, then write a 15 page book report
I would rather drink after Superhead
I would rather count the wrinkles on Ciara's balls.
Please come back tomorrow and I'll give an extended list of things I would rather do than watch Rihanna perform live.
Having said that, "Good Girl Gone Bad" took it back to the days back when there were more than 3 good songs on an album and artists could milk an album for 2 years. 7 singles went to the top 20, 3 went #1. She cranked out hit after hit, and looked damn good while doing it. VIBE voted her the most stylish star of the year. So what if she sounds like a goat being sexually violated by a dying cat. You kids don't really care about things like "vocal ability" and "stage presence" just as long you have some numbers to brag about. We shall not discuss her "
car accident
", or the other unpleasantries of that evening. Nor the (alleged) leaked pictures of her booty butt cheeks (we'll talk about that later this week). They will have no effect on her career.
Alicia Keys2007 Status:
Beyonceitis Survivor
2009 Status:
Beyonceitis Survivor
"As I Am" sold a gazillion copies. She did a good job in "Secret Life of Bees" (the one movie where Beyonce's country-ass accent would come in handy). In 2008, she embarked on her first arena tour. I won't discuss the actual tour ticket sales because you'll call me a hater,
but you bitches wanna be on Ticketmaster everyday seeing how many seats Beyonce sold.
I'll just say she cancelled a couple of shows due to "illness". On the flipside, "As I Am" was shut out of all album categories at the Grammys, and that mess that y'all are trying to start about that other woman's husband, y'all need to cut that out. You have no proof that she did anything wrong. Alicia plays the piano! She's real...she writes songs...and stuff... but we'll talk about that later this week too.
Mariah Carey2007 Status:
Beyonceitis Survivor
2009 Status:
Beyonceitis Survivor
E=MC² was another high mark in a legendary career, she has received critical acclaim (and even a little Oscar buzz) for 2 independent films "Tennessee" and "Precious" which I can't wait to see. To top it off next year will mark 20 years since the
release of her first album. On the flipside, after "Touch My Body" E=MC kinda lost steam, and I shall not discuss her recent live vocal performances, as I would hate to have skin a few Lambs today.
Britney Spears (Honorable Mention)2007 Status:
Comatose
2009 Status:
Still comatose, but on tour
Forget Sasha Fierce, Britney is the female version of hustla. While Beyonce kills herself every night doing pointless things like singing live, dancing, interacting with the crowd, and knowing what month it is, Britney makes about 2 milli a night and all she has to do is walk in a circle, lip synch, and dry hump gay dancers for an hour. I lip synch Britney Spears songs and dry hump gay dancers in my apartment every Friday night and I don't make a damn nickel. Ladies and gentleman that's a diva.
As for actual album and single sales, I'm not sure what you're supposed to say about a person who sells more perfume than albums. I don't want to use the "F" word, but if Beyonce's album performed like "Circus" is doing, people wouldn't hesitate to call it a F_____ (rhymes with "mop"). Britney was never really a Beyonceitis victim because Beyonce was the LEAST of her worries, but watching videos of performing 10 years ago then watching current videos of her basically dragging herself across the stage everynight makes me sad.
Keyshia Cole
2009 Status: Beyonceitis Survior
Like Beyonce, Keyshia Cole owns more wigs than clean panties, and has a mother with a colorful personality (I wonder who would win in a slap boxing match, Frankie or Celestine?) But fortunately for Keyshia that's where the similiarties end. You can never accuse Keyshia of being a Sasha Fierce clone (although
this pic
gives me the Beyonce Experience). She continues to make great music and she has proved that you can switch up your style without losing your idenity. The
Milwaukee Journal Sentinel
said that Keyshia Cole is the most important female urban artist to arrive on scene since Beyonce. I think I would have to agree.