Hello children. This is Foxxy Lady Tina coming to you today. That Beyonceitis boy needed a break. He's still dealing with his broken heart. I have a little sympathy for him but not much. Miss Tina has never been the type of gal to cry over lost penis. He shoulda called me because I have a spell that will have a man on you like cheese on grits.
Here's what you do:
1. You get some of the man's hair.
2. Put it in a Dereon Prayer Cloth (available at Wal-Mart).
3. Put 3 drops of Armani Diamonds on it.
4. Hold it in your left hand.
5. Say "Love, sex, magic, act bad, talk dirty, look sexy, don't hurt me".
6. Say the man's name 3 times.
7. And then say "Get Me Bodied".
I guaran-fuckin-tee you that if you do that then you can pull any man you want.
Today I have come to you to talk about the BET Awards. First of all the rumors about
Beyonce, LeToya, and the BET Awards
are NOT true. Beyonce ain't gotta keep nobody off no damn award show. On stage she'll eat all of you bitches up, spit you out, and then have Ne-Yo write a song about it. Secondly, BET doesn't even have the number to the Checker's where LeToya works to get in touch with her to ask her to perform. Lastly, random ass broads just can't jump on award shows because they have an album coming out. These award show producers have a list of hot artists they would want to perform on their show based on who would give them the highest ratings. The list is in order of relevance.
Here's that list:
1. Beyonce
2. Beyonce
3. Beyonce
4. Beyonce
5. Beyonce
If Beyonce is sick you call Alicia Keys. If she's sick I guess you would have to call that Caribbean She-Beast. If she's sick or swollen then you would call Keri Hilson. If she's on vocal rest or something then you would call Ciara. If she pulled a groin muscle and can't make it then you call Ashanti. And so forth and so on. BET would have to scroll all the way down that list to get to LeToya Luckett's name and that's ONLY if Vesta, CeCe Peniston, and Cheryl "Pepsii" Reily are all sick or unable to catch a Greyhound to get to the BET Awards.
I'm tried of you delusional pressed ass stans of these minor-ass artists. If you had any appreciation of what real diva is we wouldn't have to go through this foolishness every year.
But I digress...
Today I'm I come with you with low spirits and high blood pressure. The producers over at BET just faxed me over the seating chart for the BET Awards, and I am pissed.
Take a look for yourself: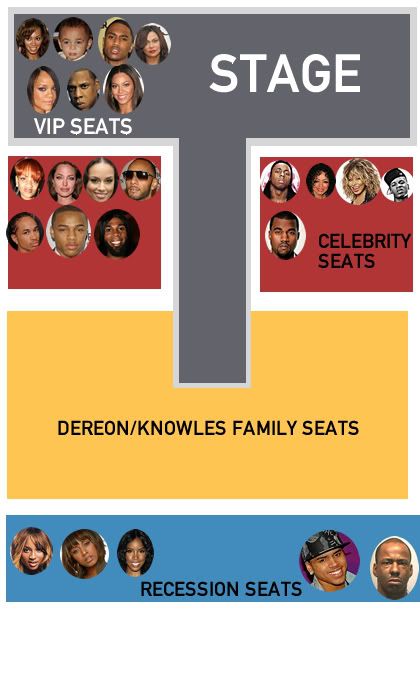 First of all as you notice the Knowles will not be seated in the crowd with the common folk. We will be seated on stage in the area of the stage generally used to present awards. The only awards that will be presented on camera will be the ones that Beyonce is nominated for, the other awards will be given away in the parking lot before the show.
Also when Beyonce's name is announced she will not get up to accept the award. Keri Hilson is going to bring her trophy over to her and kiss her feet, and I dare her to say something about it. I'll bust her in the head. After this year, BET is also renaming the Best R&B Female Artist award the "Beyonce Giselle Knowles-Carter Award for Best R&B Female Artist" and the winner will get a statue of Beyonce bent over with her cheeks spread apart so that every time somebody wina they will have to kiss her ass.
My homegirls
Diane and Anna Mae
Diana and Tina will be in the house to give honor and glory to the name of Sasha Fierce. I'm trying to re-introduce Diana and Tina to black men. Ike sent Tina over to the other side and Diana ain't seen no parts of a black penis since the March on Washington, so I hooked them up with two of my ex's. (It's a recession so we have to recycle dick.)
Solange will be seated on the 2nd row with her son. I will be seated with my new fiancé and Beyonce's future stepdaddy Trey Songz. We've been dating off and on for about 6 months, and he is sweet, kind, and has a very strong back for such a narrow-assed boy.
Beyonce will be performing 4 times at the BET Awards. She's opening the show at 8:00, again at 9:00PM, 10:00PM and closing the show at 11:00PM. Matthew has negotiated one of his famous 2-for-1 deals to save Solange from having to park cars and escort people to their seats. He said he will convince Beyonce to perform if they let Solange perform. Beyonce and Solange will duet during the gospel segment of the show. The will sing a medley of
gospel classics
which will also serve as the perfect promotion for the new Dereon Choir Robes coming this Fall. I asked the people at BET to build a runway so that Beyonce and Solange can anoint people in the audience while doing the Naomi Campbell walk.
But while their eyes are on the sparrow, my hand will be on my pistol waiting for some shit to jump off. As you can see for reasons that I don't understand Jay will be sitting beside Rihanna. Beyonce told me not to worry since Rihanna is "family" but that broad ain't never brought a lick of potato salad to any of my family reunions. I really wish Jay would stay out of other people's domestic problems. I understand the need to play Captain Save-A-Hoe, but flying off to Hawaii and going to dinner with broads while your wife is out of the country just ain't right to me.
I need somebody to keep an eye on Jay while I'm backstage helping with the wardrobe. Alicia Keys volunteered to keep an eye on Jay and Rihanna but trusting Alicia Keys to keep an eye on your husband is like trusting a crackhead not to steal your purse and your DVD player.
I asked Chris Brown to reconcile with Rihanna so that she won't be on stage with us. Me and Chris Brown used to engage in sexual eruption a while ago. And if you think I won't get down with a 17/18 year old then somebody done told you wrong. I'll will go down to first lunch at Booker T. High School, George Washington High School, Chaka Khan High School, or whoever's high school and round up about 6 or 7 of them mofos. Ain't no shame 'cause I gotta get mine. I swing my hair and kick off my shoes. Come here boy let me work on you!
But, again, I digress.
Me and Chris have remained friends even though
I snatched the cat back
I took away the benefits. So I called him up and I said:
Me: Look Chris, you need to make up with Rihanna I don't like her hanging around Jay like this. Now I hate to sound like a paranoid Beyonce stan but this just don't look right. That's how chicks get pistol-whipped, running around with married menfolk.
Chris: But Tina, she broke my heart!
Me: NIGGA YOU BROKE HER NOSE!
Chris: But Tina!
Me: Stop all that whining and call her and make up. Y'all can sing "
Fire and Desire
" and everything will be fine.
We went back and forth for about an hour and still reached no resolution. I started to call Jay and talk to him about it but me and him are not on the best terms. Jay has been doing things over the last few
months
years that I don't agree with.
EXAMPLES:
1. Mentoring and marketing
a girl
to be in direct competition with your wife.
2. Granting an
interview
with a blog that regularly posts unconfirmed stories and outright lies about your wife.
3. Going on
tour
with a female who has been slinging shade at your wife.
He says this is "just business". But he is really starting to overcook my ham hocks. This year at the BET Awards Jay should just perform with an all-female band of Beyonce-hating btiches. KeKe Wyatt can sing lead since she
sings better
than every damn body. Miss Jones can sing back-up. Sandra Rose's monkey ass can be on drums, and when Natasha asks him why he associates with people who are disrespectful to his wife, he can say "It's just business".
Let's look at it another way. What if Beyonce toured with Jim Jones as her opening act? They are on the same record label. It would be "just business".
Right?
This isn't some junior high school bullshit where you have to hate somebody just because I hate them, but I was raised to believe to be good to those who are good to you. So therefore I don't understand why you would help promote people who try to degrade your wife and her business.
But that's just my opinion.
What do you think?