Once upon a time there was a beautiful young lady, we shall call her "Diva" Now if Diva really wanted to should could have been a world famous supermodel. She certainly had the looks and the attitude, but what she really wanted to do was sing. She had studied all of the greats and the legends before her and had incorporated it into her own style. So after years of showcases and meeting with record labels Diva got a record deal. Diva was heavily and methodically groomed and marketed for white and black audiences and she became an instant hit on both the R&B and Pop charts. Year after year Diva had hit after hit and sold millions of albums around the world.
Diva starred in a movies, endorsed products, and performed on stages around the world, sweeping award shows, making other female artists look downright lazy. In just a short amount of time Diva totally dominated the industry, achieving a lifetime's worth of accomplishments, and surpassing legends before her. Diva performed for presidents. Diva performed for world leaders. Diva sang at Super Bowl as our troops fought overseas. Diva became one of the biggest stars in the world. Yet family remained important to her. Diva took her parents to all of the award shows and she gave other family members jobs working for her traveling with her everywhere she went. They were there to keep her grounded because she was achieving a level of worldwide success that was uncommon, especially for black female artists.
But things weren't perfect for Diva. People thought the man that helped her get into the industry was pulling all of her strings. They thought he controlled her every move because a woman, particularly a black woman, can't think for herself.
Right?
And we weren't all that nice to Diva. We called her fake. A sellout. An oreo. Yeah she could sing, but we said she was watered down and had no soul. We even booed her a couple of times. Yet Diva only got bigger. She continued to slaughter her competition on stage, on record at award shows.
Then one day Diva married a "bad boy". We didn't quite understand the attraction between a middle-class princess and a dude from the projects. So we said it wasn't a real marriage, but a busiess arrangement. He was supposed to give her street cred. She was supposed to give him "pop cred". Yet, despite the criticism Diva just got bigger.
After awhile Diva became a larger-than-life figure, almost mythical. Everything she did and everything she said was dissected. Sliced. Diced. Chopped And screwed. So much so that we forgot that in the center of all the rumors and hype was a massively talented woman. And we didn't start fully appreciating the talent until we almost lost it. And after the booing, the ridicule, the rumors, and doing everything we could to degrade her, as she stood before us, a broken shell of her former self, we had the audacity to look at her and ask "What happened?"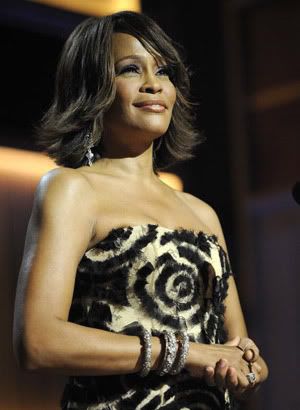 This year she has a new album coming out and she's eligible for induction into the Rock and Roll Hall of Fame. She's alive and well (and looking good), so let's give her props while see's still around to see it.
http://www.classicwhitney.com/interview/rollingstone_1993.htm