Dear Beyonce,
I wanted to wish you a Happy early Birthday. I know you will probably be busy spending it at a fancy restaurant, or on an island, or under your husband so I'd like to give you your presents early:
It's a fork and a flashlight.
You may not understand why you need these things, but it will all be clear after you read this.
I heard that you are performing at the MTV VIdeo Music Awards. I am both excited and worried about this announcement.
I remember your first major solo award show performance at the 2003 BET Awards.
Even before you sang a single note, or wiggled a single bootybuttcheek Mo'nique introduced you as one of the greatest female entertainers of your time. In less than 5 minutes you made it very hard to be a female in the entertainment industry. Lives were lost. Ponytails were snatched. Careers were ruined. Ashanti went from artist of the year at BET to employee of the month at Dunkin' Donuts.
After the BET performance there was a long line of memorable performances.
You being lowered down like a Creole piñata at the VMAs.
You and your clones at the Billboard Awards.
You and your army of homothugs doing your Dereon mating dance in a ring of fire at the Radio Music Awards.
Your mash-up with Andre 3000 at the Brit Awards.
Your
performance with Prince
at the Grammys, even after him and Tina got into it backstage over some eyeliner and her purple freakum heels. = Classic.
And your 2006 BET Awards "Deja Vu" Performance?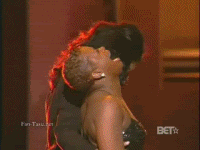 From 2003-2006, on award shows stages around the world you served hot Cajun Catfish with a side of cole slaw. And all the children wanted a piece.
However, since that time something has changed with your award show performances.
It's not that you've become sloppy like
certain
performers. Overall you've become a better version of yourself. You've become a more restrained singer and a much more graceful dancer, so the quality of your performances definitely hasn't decreased. The problem in regards to your award show performances is not that you've become a lazier performer but a better businesswoman. You decided to save your best ideas and performances for your tours rather than give them away for free at award shows.
I guess your thinking was if people wanted to see you at your best they would have to buy a concert ticket, or at least buy the DVD.
The problem with that is that even with your recession seats, for some of your fans it may not be financially or logistically possible to see you live in concert. And although concert DVDs are supposed to capture the best of you on tour I'm sure a lot of other fans would agree that vocally and lacefrontally, the Atlanta show was not the best show on the Destiny Fulfilled tour, and the Los Angeles show was damn sure not the best show on the Beyonce Experience tour.
So there are people around the world who still need to be reminded of who you are and what kind of damage and destruction you are capable of.
I was told that you would be performing "Sweet Dreams". If you are planning to come out dressed like the tooth fairy and do a slowed down MTV Unplugged type thing I would prefer you just stay home, watch it on TV, and let Kelly grease your scalp.
Now, more than ever, it is important that you deliver a jaw-dropping performance. There are some people online who are going around using words they don't know the meaning of. Words like:
"slay"
"epic"
"icon"
"diva"
"queen"
"legend"
"singer"
"live vocals"
"female"
There are people who think someone "slays" a performance just by showing up and not passing out.
There are people who think backbends and splits make an "epic" performance.
There are people who have become music "icons" just by being photographed, turning the sidewalk into a catwalk and hanging out with other people's husbands.
That's why on September 13th I need you to eat this performance like a Popeye's 3 piece. (That's what the fork is for)
I need you do lay down a the type of performance that you did back when you had something to prove.
I want chicks to buy super glue to protect their hairpieces from the wig-snatching that you will bring in New York City that night.
I want even your the your biggest, most bald-headed, most menopausal blackvoices.com hater to be like "Did you see what the fuck Beyonce did last night?
But wait there's more.
You're probably wondering what the flashlight is for.
Because the VMAs are a MTV production there's going to be so much shade in that building that you're going to need an alternate light source to see all those two-faced bitches. For the past year or so MTV has been throwing large amounts of shade, salt, and grease towards you. It is evident in everything they've written (and haven't written).
In March I made a
post about your tour and Britney's tour
and how I thought MTV would treat you two. It pretty much said that you would work yourself into exhaustion on stage for over 2 hours and get nothing but shade and all Britney would have to do is show up and not piss on herself and she would have the greatest tour in history. I was half-joking at the time but unfortunately that joke became a reality.
MTV.com has written no less than
37 articles about Britney's tour
.
Despite the fact that you have one of the most commercially and critically successful tours of the year they could only be bothered to write about
5 articles
about your tour, most of which did NOT appear on the main page.
What really overcooked my hamhocks was this article "
Was Beyonce Lip-Synching
?" concerning your performance at the Oscars. I just find it a little odd that a network who seems so deeply in love with an artist who hasn't sang live since "The Parkers" was on the air would be so strongly opposed to the idea of you using pre-recorded vocals. But I guess that's the name of the game.
I know a large part of this is the fact that they still have egg on their face from when Britney made an ass of herself and them with her comatose performance at the 2007 VMAs. So in writing damn near 40 articles about her tour it creates the illusion that Britney is still relevant to people aside from her stans.
I would like to think that you and Britney are of equal importance to MTV, but the shade they've been throwing is about as subtle as your acting in The Fighting Temptations. I know that the economy (and legitimate journalism) has changed and objectivity does not pay the bills, but I miss the days when MTV.com was a legitimate and (somewhat) balanced news source instead of the gossip blog that it has become.
As for your nine nominations I'd like to think that the cultural significance of the "Single Ladies" video would be enough to guarantee you at least the Video of the Year award, but historically the VMAs hasn't always done right by us Negroes regardless of how culturally significant our videos were. Michael Jackson's "Thriller" did not win Video of the Year in 1984. Janet's "Rhythm Nation" wasn't even nominated for Video of the Year in 1990. And it took 11 years for a Black act (TLC) to actually win Video of the Year. They've cut the "Best R&B Video" award which would not have only recognized you but also exceptional R&B videos released this year from other artists including
your sister Solange.
I'd like to have a positive attitude about the VMAs, but I can smell bullshit a mile away. You just make sure Mama Tina brings her boxcutter and fighting wig.
Because of this I need you to go into the VMAs with a different attitude. This is not the year to be humble. As Erykah Badu said "
Being humble is so 2007
". I need you to be a diva that night. I am tired of seeing you smiling and giggling every time the camera is on you. Ain't nothing in the world that damn funny. At the VMA's I want you to be the messy bitch Tina raised you to be. I want you to throw the type of shade that only a drunken queen or an iconic diva can throw. Take it back to the
Destiny's Child days
when you could shut a chick down with just one look. Roll your eyes. Fold your arms. Cross your legs. Boo bitches off the stage if the spirit moves you. I want you just get really hood with it. Spit sunflower seeds at the stage when Keri Hilson is on stage. Get a pillow and pretend to be sleep when Britney gets on stage (it won't be that hard). DO NOT tip Ciara when she gives you the keys to your car at the valet parking booth. Be the mean diva that people think you are. They already hate you, give them a good reason.
In conclusion, even if you disappoint me at the VMAs I'll still support you. I'll just talk about you behind your back in blog comment sections like your other fickle-ass fans.
And I'm changing the name of this site to Cassieitis.
Thank you for listening.
And Happy B-Day!