Last week was pretty much one of the best weeks in Beyonce's career. She kicked off her world tour, her movie debuted at #1, Halo moved up a little bit, and she got her real estate license. I didn't go see "Obsessed". I had...um..shit to do... And by shit I mean not sit beside your country ass while you yelled "Whoop her ass Beyonce!" at the screen for 2 hours. My nerves can't take it. People were yelling at the screen during
Toyota
Cadillac Records, so I can only imagine the kind of niggatry going on at the Magic Johnson Theater during the 7:40PM Saturday night showing of "Obsessed"
Thank you, but no thank you.
Sorry for my absence. Actually I'm not sorry. I hate all of you today. I am sincerely and completely disgusted with each and every one of you. I really was going to wait to write a new passage until my life settled down, but I know you got tired of coming to the blog and seeing Miss Man Thing.
But nonetheless, here's why I hate you all:
1. I Am...Disgusted With Ticketmaster.
First of all congratulations to Beyonchichi on the success of her tour. What the other niggra blogs will not tell you is that last weekend she
sold more concert tickets than any other solo artist in the industry
, the only acts that sold more tickets were U2 and Aerosmith, and U2 is playing 70,000-seat stadiums, so all stanning aside that's a good look for urban music tours in general which historically have not done as well as their white counterparts. And if you hypocritical blogging bitches would report the WHOLE truth, and not the lies or half truths that other record companies pay you to write, then you would know that.
But I digress...
So anyway, I log on Saturday morning to get my tickets to see Beyonce in DC. Then Ticketmaster gives me this message:
You tangy bastards took all the good seats within an hour. I had good seats at the Beyonce Experience, the Janet concert, and the Alicia Keys concert, and I REALLY wanted those on-stage seats where you're close enough to get Beyonce's lacefront sweat on you. I refuse to spend $95 to sit all the way out in the damn parking lot to where Beyonce and her dancers look like a bunch of bedazzled ants.
2. I Am...Disgusted With Beyonce's "Friendship" with Rihanna
So I'm watching Beyonce's interview on Larry King Live on YouTube (Jesus has not yet formed a fence around my Comcast Cable situation). As usual Larry King looked like death sucking on a lifesaver.
I can tell he was horny for Beyonce, well, as much as a 274-year-old man can get horny. Beyonce was her usual cheery self, answering all the questions, showing everything she learned in Celestine's Creole Charm School. Smile. Sit like a lady. Answer politely. Keep a switchblade in your purse.
The highlight of the interview is when Larry asked Beyonce about her feelings about "the incident", and Beyonce said "Rihanna is like family."
As you know
I am not welcome at BeyonceWorld
, but I can about imagine that there was a 20 page argument about what Beyonce meant by "family".
EXAMPLE:
Beyonce Stan #1 :I know she didn't just say that.
Beyonce Stan #2: Somebody must be messing with CNN's audio.
Beyocne Stan #3: She must mean they are like family like we are all God's children, cause I know good and hell well she ain't say she was family with that bitch.
Yes, after almost 3 years of hating Rihanna, rolling our eyes at Rihanna, making voodoo dolls that look Rihanna and sticking pins in the forehead, it's hard to imagine that Beyonce and Rihanna are homegirls.
You know how I feel about Robyn. I like her music, LOVE her style, but I'm annoyed when people compare the two. In my opinion if you compare Rihanna and Beyonce then you have totally missed the point of what Beyonce is trying to do, and in many ways what Rihanna is trying to do. They are two seperate artists and should be treated as such.
Yet despite the fact that Beyonce herself said that Rihanna is family I know some of you can't picture Beyonce and Rihanna holding hands and skipping down Fifth Avenue. Or Rihanna sitting next to Cousin Bootsie and Cousin Chevron at the Dereon Family Fish Fry. But I have photographic proof that Beyonce and Rihanna are BFFs!
EXHIBIT A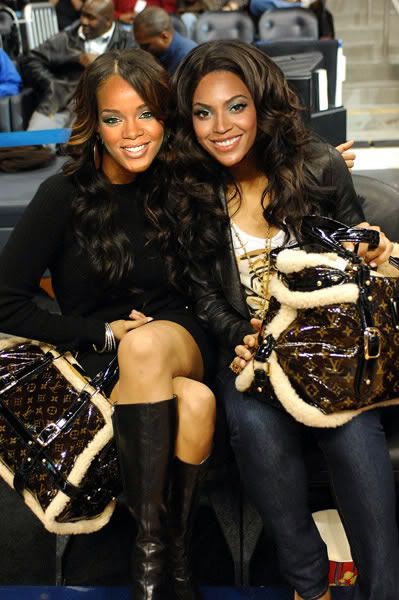 Here is Beyonce and Rihanna all up on each other at a basketball game. I thought they were going to start making out. Beyonce let Rihanna go through her wig warehouse and wear her Dreamgirls Lacefront #48. from the scene where Deena snitches on Curtis to the feds.
EXHIBIT B
Here is a picture of several of Rihanna's 343 tattoos. She has several tatoos dedicated to Beyonce, includng the House of Dereon logo.
EXHIBIT C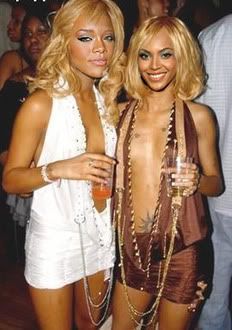 Here is a picture of Rihanna and Beyonce at Club Bucknasty in Augusta, Georgia during A Milli Mondays" The look they were going for was "low-budget" and "ass-backwards". So they hired Ciara's stylist.
I also have photos of Beyonce and Rihanna from Solange's "I Just Got My Living Room Furniture Off Layaway" Party presented by Patron Silver, and Rihanna's "The Swelling Has Gone Down" Party presented by Ciroc. But those are private.
3. I Am...Disgusted With People Spoiling the Tour.
When I spend $10 to see a movie at the picture show I DON'T want to know the ending so I will never understand why people would spend $100+ to go to concert and you know EVERY FUCKING THING that's going to happen before it happens. Half of the excitement in life is surprises. I just don't want you bitches to go to the concert and say "That show was kinda boring" Well, maybe if you hadn't spent the last four months watching it over and over on YouTube it wouldn't have been as boring, but your punk ass knew every thing that was going to happen. Some of us still like to be surprised. I have resisted the urge to watch YouTube videos of the I Am...Better Than All You Hoes World Tour (presented by Hamburger Helper) but for some reason I know quite a few details about the show, because even if you are trying NOT to be spoiled, inconsiderate ass niggas work tour details into everyday conversations:
EXAMPLE:
At the bank...
Me: I would like to make a deposit in my checking account.
Teller: Oh ok. Would you like your account balance?
Me: Yes, thank you.
Teller: Would like to see Beyonce's whole set list?
Me: NO!
4. I Am...Disgusted with Stans
One thing I have learned is that stans are never satisfied. It baffles me how Beyonce has become so famous and yet she does all the wrong things in the eyes of her stans. She picks the wrong singles, the wrong videos, the wrong outfits, her stage doesn't look like Britney's blah, blah,blah,blah, bark, bark.
Go stab yourselves. NOW!
I've been watching YouTube video's of Michael Jackson's stage shows and his sets have always been relatively simple. I guess he didn't need the clowns, monkeys, elephants, lions, tigers, and bears on stage because the thought was if your talent is big enough there isn't much room on stage for a lot other stuff. I guess it's not enough that Beyonce is #1 she has to do everything we want her to do, at the exact moment we want her to do it.
5. I Am...Disgusted with YouTube
Last week was the
official death
of legitimate journalism.
Really?
A hoax?
Did you really have to call America's Most Wanted, Unsolved Mysteries, Ghostbusters, and Matthew Knowles to realize that this wasn't real.
Also last week I watched Beyonce on David Letterman. Then I watched a video of someone summarizing Beyonce on David Letterman, then I watched a video of someone responding to that person summarizing Beyonce on David Letterman...It wasn't funny or witty, it was just someone describing what they saw on TV like they were 5 years old.
Like seriously?
Is all of that really necessary?
Aside from B. Scott, Alexyss Tylor, or
whoever this dude
is, if you are a vlogger I'm going to need you to go play in Brandy traffic.
Now.
And last, but certainly not least.
I Am... Disgusted With Beyonce!
Look at this trick: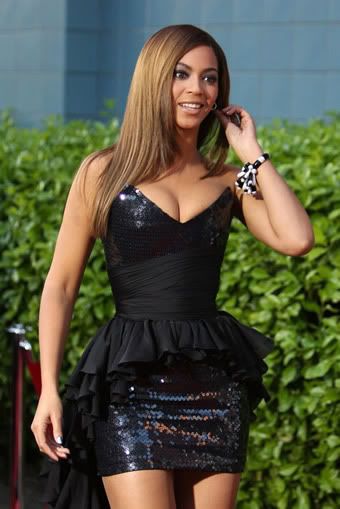 It's getting to the point where I just don't want to be her friend anymore. The chick is just...disgusting. It should be illegal for a person to slaughter the game this bad and this hard. If you made a list of the hottest chicks in the game it would Beyonce and big ass space and then random ass chicks in no particular order because nobody cares about them. In the midst of the hit movie, the hit tour, the hit singles, and the hit album I realized that Beyonce's competition is not to be found in the current crop of pop/R&B chickens. We're going to have to go to a laboratory and create a group of bionic, killer robot R&B, singing, dancing, acting, Nintendo-selling bitches. That's the only way to beat Beyonce. Either that or Beyonce's competition hasn't been born yet.